NYC Personal Injury , No Fault,  and Collections Lawyer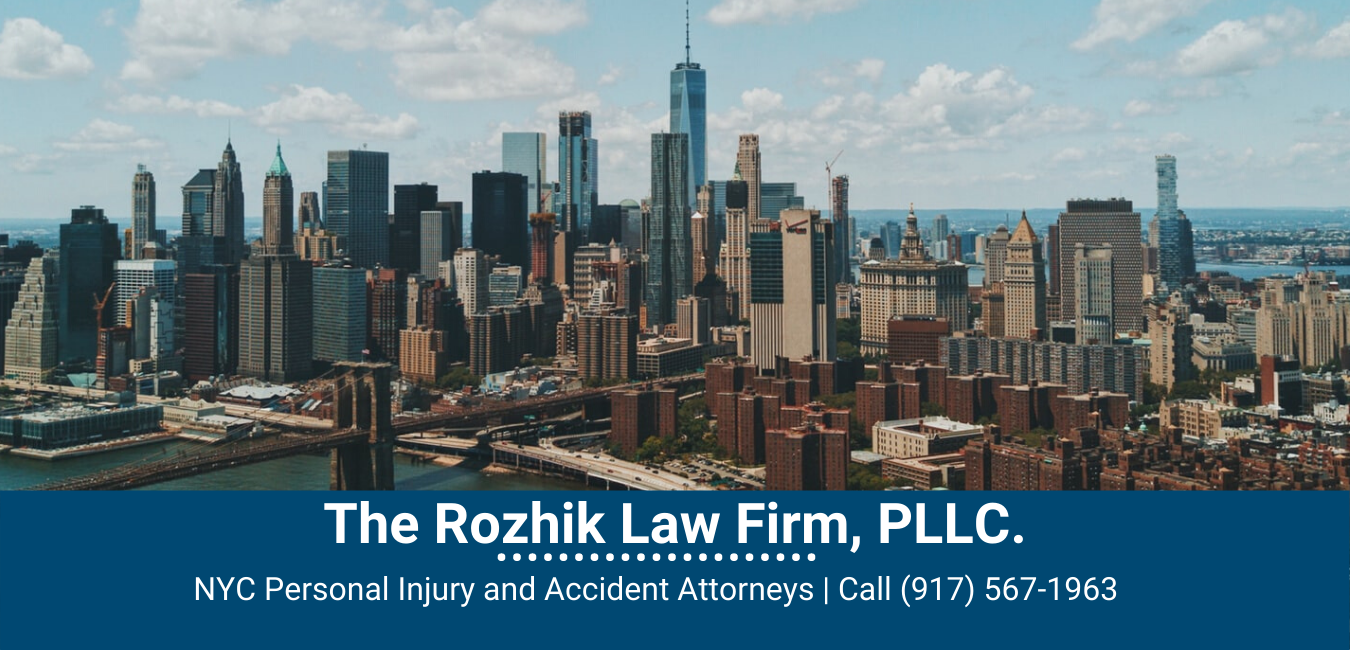 Rozhik Law Firm, your local NYC Personal Injury, No Fault, and Collections law firm strives to give their clients the best representation possible. We fight vigorously everyday for the common hardworking woman, man, and child who have been victims of an accident in New York City and all of the surrounding boroughs.
Our goal is to help you get the most recovery possible if you've fallen victim to an injury including slip and fall accidents, elevator and escalator accidents, fire injuries, swimming pool injuries, negligence due to security personnel, workplace injuries, construction site injuries, stairwell Injuries, wrongful death claims, and many other serious injuries. You deserve not only fair compensation for your pain and suffering, but justice as well.
We stand up to insurance companies and fight for what is properly due to you. With No-Fault Law or otherwise known as Collections Law, there are specific expenses that are covered by the insurance company associated with the vehicle you are driving in or acting as a passenger during an accident. If the driver does not hold insurance on the vehicle that was involved in the accident, but a member of the household does, this becomes a no-fault legal matter. There are benefits which you may be entitled to regardless if you file a law suit or not.
It is an absolute must to get in contact with a law firm immediately if you are ever a victim of a car accident. It is certainly possible that you may not be privy to any reward but it is better to receive this confirmation from an experienced and licensed legal professional. Never waste time and never assume you are owed nothing. A consultation is free, informative, convenient, and always available to you when dealing with The Rozhik Law Firm. Our goal is to cater to your needs and give you the best representation possible.
How we can help
Call us today at (917) 567-1963 for a FREE CONSULTATION over the phone. Afterwards, if we believe we can help you with your matter, we will set you up for an office appointment with our experienced Personal Injury and Negligence Brooklyn lawyer. All consultations will be done with a lawyer that concentrates on accidents and injuries. We do not send you off to speak with aids or paralegals – our mission is to make sure a highly-trained professional attorney hears your case the moment you call our law firm.
Once the case is set in motion, we typically aim to reach a settlement. Some of our clients certainly prefer to head to trial but many individuals with an injury are more keen on being compensated for their pain as soon as reasonably possible. As our client, we will proceed with your direction but in our extensive experience, we have found that clients are most happy when their pain and suffering is rewarded with financial gain within the shortest amount of time.
____________________________________________________________
Dealing With An Injury
The moment you find yourself with an injury due to another party's negligence, always seek medical treatment immediately. Serious injuries like fractures, trauma in the head, and spinal damage can have far reaching consequences in your life. Call for medical attention as soon as possible. Do not fret over the minute details of your circumstance. Our law firm is there to gather and prepare the case for you.
Evidence Gathering
After the office visit, if we determine that your case is worth your time and recovery is possible, we would ask you to provide us all of the necessary information in reference to your injury. The sooner we know all of the details, the better. The reason for this is so we can begin gathering as much evidence as possible which would include requesting medical records, interviewing local eye-witnesses, collecting affidavits, requesting video footage if available,
Seeking Justice
What is most important for you as our client is a resolution. Our goal is to find you peace, clarity, and a positive outcome as quickly as possible. If a trial is something you aim for we can certainly cater to that but another option is to seek a settlement. Litigation and legal cases in general can be stressful. We want you to be rewarded with the appropriate benefits that you seek as fast as possible. Our priority is to get you to the right monetary compensation with haste.
OUR PRACTICE AREAS...
Rozhik Law Firm PLLC offers a wide range expertise in the fields of
WHAT OUR CLIENTS SAY...
Hear first hand from satisfied clients what they think of our firm
Unbelievable law firm. Richard Rozhik, Esq. showed his experience in my case and was a true professional. I could not be happier. If you want a personal injury lawyer, be sure to call the Rozhik Law Firm PLLC.
I felt safe with this firm. They understood me and worked with me. Richie was the guy that helped me and he did an outstanding job. Highly recommend it.
Richard is hands down one of the best lawyers we ever worked with. He showed compassion, intelligence, and worked incredibly fast on our case.
Free Consultation - Call (917) 567-1963